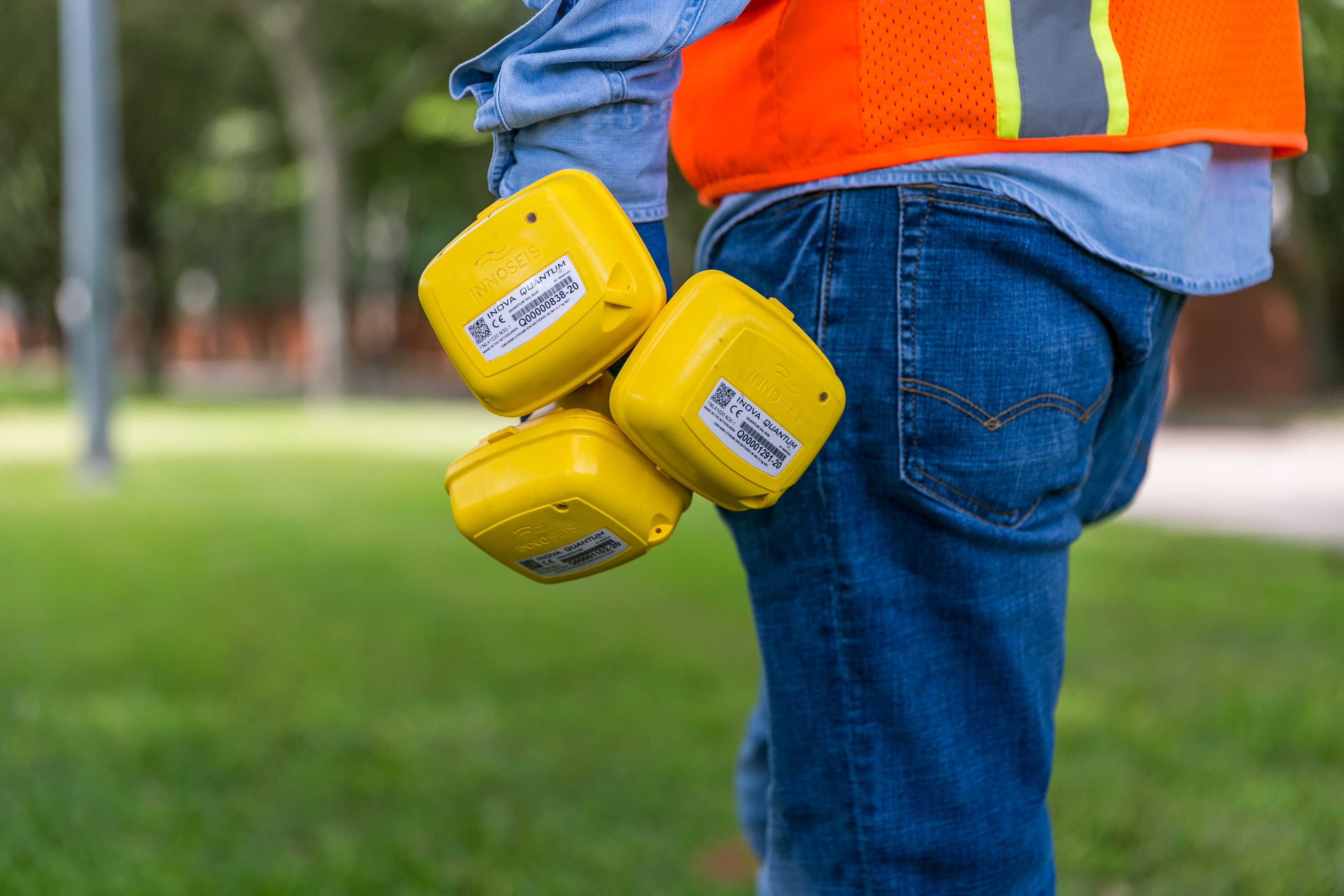 INOVA Geophysical strengthens partnership with Mitcham Industries
Aug 13, 2019
---
INOVA Geophysical has the pleasure to announce the strengthening of the partnership with Mitcham Industries by agreeing to deliver 20,000 Quantum nodes during the current fiscal year. This large purchase is initially slated to be part of a vast nodal based seismic acquisition project to be undertaken in Europe and will become available to Mitcham's rental clientele immediately following.
This is the second large purchase by Mitcham Industries of INOVA's Quantum autonomous nodes. An initial delivery of 5,000 nodes took place in early 2018 and they have been in heavy rental rotation since. Mitcham carries a wide array of INOVA products in its portfolio including acquisition systems and source products.
INOVA has been closely engaged with the Mitcham organization to understand their needs and offer them the right solution for their customers. Carey Mogdan, Chief Operating Office for INOVA adds "We are in constant communication with the people at Mitcham. We see them as partners and we strive to find the optimal answer to their requirements and those of their customers.".
Robert Capps, Co-Chief Executive Officer for Mitcham explains, "Our customers have been very happy with the performance of Quantum and we are pleased with the support we have received from INOVA. We are glad that we can continue to build on our relationship through this purchase.".
INOVA's Quantum cableless acquisition system is a lightweight, low power, autonomous node system designed to maximize return on investment by increasing productivity and reducing downtime while minimizing the impact of difficult environmental and operational conditions. Quantum is powered by INOVA's iX1 software, an operating system for seismic acquisition that simplifies field operations consolidating source control and spread management into one comprehensive view. Learn more about Quantum and INOVA's other land recording systems at www.inovageo.com
About INOVA Geophysical Equipment Limited
INOVA Geophysical Equipment Limited is a leading provider of land geophysical technology, including source and source control systems, cabled and cableless land acquisition systems, and advanced seismic sensing devices. Managed as an independent company, INOVA is a joint venture owned 51% by BGP (a wholly owned subsidiary of China National Petroleum Corporation) and 49% by ION Geophysical Corporation (NYSE: IO). Additional information about INOVA is available at www.inovageo.com.
About Mitcham Industries
Mitcham Industries, Inc. provides technology to the oceanographic, hydrographic, defense, seismic and security industries. Headquartered in The Woodlands, Texas, Mitcham has a global presence with operating locations in the United States, Canada, Singapore, Malaysia, Hungary, Colombia and the United Kingdom. Mitcham's worldwide Marine Technology Products segment, which includes its Seamap and Klein Marine Systems units, designs, manufactures and sells specialized, high performance, marine sonar and seismic equipment. Through its Equipment Leasing segment, Mitcham believes it is the largest independent provider of exploration equipment to the seismic industry. at http://www.mitchamindustries.c...
Contacts
INOVA Media Affairs
Mr. Gary Jones
+12815682382
Download PDF- Mitcham Sale August 2019